Cassie Gasson, Chief Marketing Officer at THRIVE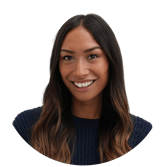 Cassie has worked in the technology industry for over five years gaining a wealth of experience in commercial marketing whilst attracting brands such as VOXI, Google and Superdrug.

Beginning her career at Mind Click, she gained unparalleled experience in the learning technology space where she always believed in focusing on the end user and all else will follow. Now CMO for THRIVE, Cassie is responsible for their marketing strategy, staying ahead of the curve and building a disruptive brand that demands the attention of L&D teams everywhere.